Amazing Villa Holidays
Let us help you find your next villa holiday
Here to help
We are on hand to find you the perfect holiday and help advise locations, villas, and what will suit you best. Let us take the hassle away for you.
Curated Properties
We take time to find properties that suit your needs and budget, from small cosy villas to large party villas, ask us how we can help.
Best Prices
Your time is valuable, so we ensure the prices are the best around and we can find you the best villas for the best value.
---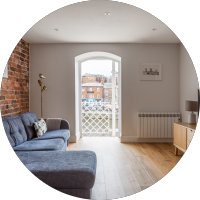 Great location overlooking the river right in the centre of York. Very clean apartment, comfy bed. We parked in the train station car park which was reasonably priced as we thought our car would be too long for the garage. We really enjoyed sitting on the balcony. It was the first weekend of outdoor eating during lockdown and everywhere was booked but as cooking facilities were very good, we were happy to eat at the apartment. Would definitely stay again. 5 Stars.
Date of arrival - 17 April 2021
★ ★ ★ ★ ★
Join our collection of villas
The Ocholo Team has been placing discerning guests in prestigious properties like yours for over 18 years. Get in touch to discuss opportunities with one of our experts.
Apply Now