Amazing Villa Holidays
Let us help you find your next villa holiday
Here to help
We are on hand to find you the perfect holiday and help advise locations, villas, and what will suit you best. Let us take the hassle away for you.
Curated Properties
We take time to find properties that suit your needs and budget, from small cosy villas to large party villas, ask us how we can help.
Best Prices
Your time is valuable, so we ensure the prices are the best around and we can find you the best villas for the best value.
---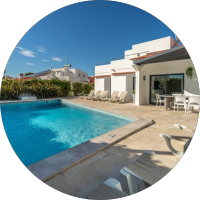 Myself and a group of 7 friends/couples stayed at the Vivenda Catarina at the start of May 2019. All I can say is the pictures do not do this villa justice! The whole place was spotless and furnished to a very high standard. Beautiful pool area and plenty sun loungers, two lovely outside dining areas and a BBQ we took full advantage of. The only downside I can think of is the fact the villa is very open plan and has a stunning mezzanine but this caused echoing as my friends are loud but it can't be helped. This didn't put us off at all and I will definitely be back! Excellent location, 5 min walk to a small convenience store and a further few mins to Spar. 10 minute walk to the main 'strip' but far enough away to not hear any noise. 5 stars!!!
★ ★ ★ ★ ★
Join our collection of villas
The Ocholo Team has been placing discerning guests in prestigious properties like yours for over 18 years. Get in touch to discuss opportunities with one of our experts.
Apply Now