Amazing Villa Holidays
Let us help you find your next villa holiday
Here to help
We are on hand to find you the perfect holiday and help advise locations, villas, and what will suit you best. Let us take the hassle away for you.
Curated Properties
We take time to find properties that suit your needs and budget, from small cosy villas to large party villas, ask us how we can help.
Best Prices
Your time is valuable, so we ensure the prices are the best around and we can find you the best villas for the best value.
---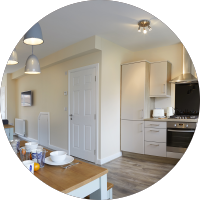 Fantastic stay with our children. Ocholo booked our trip and all went smoothly. Child friendly for our 1 year old, all open plan downstairs is great plus there was a free travel cot and highchair, plastic bowls/cups and cutlery etc. We took the Playstation for our older children and hooked it up to the Smart Tv in the living room. Filey is always our favourite and we holiday there in the summer too but this winter stay was just as enjoyable. The beach is still great we luckily had crisp blue skies too, the kids had just as a good time and Shore House is just a short walk to town or to the amusements so the kids aren't being put in the car all the time - perfect location and will definitely go back. We loved the comfy sofa we wanted to take it home!
★ ★ ★ ★ ★
Join our collection of villas
The Ocholo Team has been placing discerning guests in prestigious properties like yours for over 18 years. Get in touch to discuss opportunities with one of our experts.
Apply Now